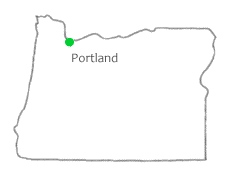 Portland is located near several areas with diverse flora: the Columbia Gorge (which contains a quarter of all of Oregon's wildflower species), Mt. Hood, the Coast Range, and Mt. St. Helens. The chapter conducts field trips to all these areas, as well as to parks and Nature Conservancy areas in the Willamette Valley. Because spring begins early in the oak/ponderosa parkland and sagebrush steppe of the East Gorge, and because flowers linger late in the high meadows of the Cascades, field trips can start in March and go through September; sometimes we have later fall/winter trips for mushrooms, lichens, mosses, and winter tree identification. We have also assembled work parties to do plant inventories, removal of invasive plants, and fence construction.
Meetings are held on the second Thursday of every month except July and August at TaborSpace at Mt. Tabor Presbyterian Church, 5441 SE Belmont Street, Portland. We meet in Muir Hall. The meeting room is open for informal discussion at 7 and the formal part of the meeting starts promptly at 7:15.
Meetings feature presentations/slide shows on subjects ranging from the flora of the Blue Mountains, the West Cascades, and the French Alps to fire ecology, Native American ethnobotany, butterfly gardening, naturescaping and gardening with native plants, biological control of invasive plants, and wetlands restoration.
For meetings and events, see the calendar below, the latest NPSO Bulletin, or the Portland Section on the NPSO Calendar page.