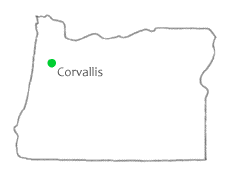 The Corvallis Chapter of the Native Plant Society of Oregon is centered in Corvallis and is involved in the education and conservation of native plants. The Corvallis Chapter covers all of Benton County, Lincoln County, and Linn County; spanning from the Oregon coast to the crest of the Cascades. We have monthly meetings from fall through spring. Field trips begin in spring and continue through fall. Our community activities include a native plant sale in May, a booth at the Benton County Fair in August, maintenance of a checklist of native wildflowers of the Corvallis area, and we are developing a native plant garden at the Nature Center in Avery Park, in Corvallis.
Meetings are held the second Monday of the month, starting in October and continuing through June. We meet at 7:30 pm, Cordley Hall at OSU, Room 2087, Corvallis. Monthly meetings feature guest lecturers on topics of interest to our members. Our meetings are open to the public.
Fieldtrips are scheduled, usually on weekends, during the field season, spring through fall, and are announced in the NPSO Bulletin and at the monthly chapter meetings. Fieldtrips visit areas of botanical interest and range from short, local walks, to longer all-day hikes in the mountains or on the coast.
Special Projects
The Corvallis Chapter recently began design and installation of a native plant garden at the Nature Center in Avery Park in Corvallis. This is a long-term project, through which we intend to educate the public about our native flora.
Please see the Corvallis Section of the Calendar webpage for details on upcoming chapter events.