2018 Fellows
---
Barbara Mumblo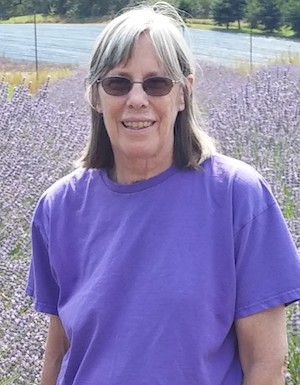 Barb Mumblo's family lived in five different states (never more than five years at any location) during her father's US Air Force career. In 1975 she found her forever home in Oregon when she and her 6-year-old daughter visited Oregon. She was inspired to go back to school after participating in a plant hike on the Pacific Crest Trail at Mt. Ashland led by Dr. Frank Lang, a botany professor at Southern Oregon State College (SOSC, now Southern Oregon University). Barb finished her BS in Biology at SOSC in 1980 with enough classes in botany to qualify for botanist positions with the federal government. Her first job was a biological technician gathering field data and monitoring rare plants for the Medford District Bureau of Land Management (BLM) from 1981-87. She then took a forestry technician position with the Rogue River National Forest which led to the District Botanist position on the Applegate Ranger District within a couple of years. There she was responsible for "all things botanical," including managing the programs for rare plants, invasive species, fire rehabilitation, and restoration projects for bitterbrush and in oak woodland communities. On New Year's Eve 2015 she retired as District Botanist from the Siskiyou Mountains Ranger District (formerly the Applegate Ranger District), where she had served as botanist for 28 years, with occasional work on the Coast and the High Cascades. She is best known as an advocate for the region's rare and endemic plants and for her work on noxious weeds both as a professional botanist and as a volunteer.
For decades, Barb tirelessly tabled and presented community talks on identifying and controlling noxious weeds. She led or joined innumerable weed-pulling work parties and helped coordinate the annual Let's Pull Together educational noxious weed event with the Jackson County Weed Management Area. She took the lead in manually controlling a new threat, yellow floating-heart (Nymphoides peltata), in Little Squaw Lake, a project that involved removing plants and, with the help of scuba divers and volunteers in kayaks, covering the lake bottom with landscaping barrier fabric to prevent re-establishment by seed germination and rooting of fragments. Barb was recognized for her incredible service and received the 2002 Special Recognition Award from the Oregon Department of Agriculture and the 2012 US Forest Service Region 6 award for Invasive Plant Manager of the Year for outstanding dedication, professionalism, and effectiveness in combating weeds in the Pacific Northwest Region.
She joined NPSO in 1988, so has been a member of the Siskiyou Chapter for 30 years. She has volunteered in so many capacities that the following listing may not include all of them. At the State level, she served as NPSO Director-at-Large in 1989-91. At the Chapter level, she was President twice (1991-92 and 1996-97), Secretary/Treasurer (1988-89), and Field Trip Coordinator for four years (1991-95). Barb has also helped coordinate annual meetings, led numerous plant walks, collected and identified plants for the Siskiyou Chapter 4th of July Wildflower Show for over 30 years and identified plants for the Shady Cove Wildflower Show for 20 years. She led wildflower walks for over 20 years on the Table Rocks as part of The Nature Conservancy/BLM guided hike series. She currently oversees the enormous task of coordinating the Irene Hollenbeck Memorial July 4th Wildflower Show in Ashland. She has also volunteered to help plan the 2019 annual meeting to be hosted by the Siskiyou Chapter.
From her home in a forest in the Applegate Valley, Barb continues to volunteer in many ways to safeguard our beautiful natural plant communities. It is not unusual to hear that someone spotted Barb along a roadside pulling invasive weeds. Barb is an incredible asset to the Native Plant Society of Oregon and skillfully and humbly makes a difference in the community.
–Kristi Mergenthaler, Siskiyou Chapter